Maleonn
"Boredom is a warm home for an artist, while creation itself is a lonely journey and the final destination ever further away." Maleonn
Raised at the back of a theatre, his work expresses fables and a fantasy world. Maleonn directs and photographs exquisite handcrafted staged scenarios derived from his imagination. His work transports us to a magic world laden with tragedy, nostalgia, romance and black humor.
Maleonn's vision and execution is one of a kind. His talent didn't go unnoticed and he is considered a rising star in China and beyond. He exhibited in museums such as the V & A in London, Shanghai Art Museum, MOMA Zendai Shanghai and galleries worldwide in China, Australia, USA, Italy, Thailand, Paris, Norway, Belgium, Denmark, Canada and Spain.
「神筆馬良」是中國攝影師馬良的個人攝影作品展,並將一次過展出他多個攝影系列的部分作品,包括早期的 《我的馬戲團》、《二手唐詩》,以至近期的 《移動照相館》 和 《上海最後的探戈》 等。
當中「移動照相館」就更特別,它可是一個由貨車改裝而成的可移動攝影工作室。早前馬良和朋友一起帶著一車道具、服裝及攝影器材穿越中國三十五個城市,沿途為參觀者拍攝舊式照相館風格肖像。項目吸引了一千六百人參與,他們在「移動照相館」裡,可一嘗扮演超級英雄的滋味,亦可把自己的幻境成真,留下許多既有趣又難忘的記憶。
馬良擁有獨一無二的攝影構思及創作手法,他的才華備受矚目,近年在藝術圈更是名聲鵲起,享譽國際。他的作品曾在世界各地多個博物館及藝廊展出,包括倫敦 V & A 博物館、上海證大現代藝術館、中國、澳大利亞、美國、意大利、泰國、巴黎、挪威、比利時、丹麥、加拿大、西班牙等地的藝廊。
MY CIRCUS – 2004
'Even though life is just a circus, we still have to put up our best performance.'
BOOK OF TABOO – 2006
'After life there is death, after happiness, there is sorrow.
After growing up there is growing old, after departure, a far destiny. After illusion there is the truth, after songs of praise, songs of betrayal.
After belief there is suspicion, after establishment, subversion.
After freedom there is restriction, after the carnival a long black hole.
'
NOSTALGIA – 2006
To my distant youth and Utopia'
'Home is so much missed, as if its impossible to go back there. Even if you could, it would no longer be the same. All traces disappear in time.
STUDIO MOBILE – 2012
In 2012 when his other half moved out of the double and he was evicted from his studio (again), Maleonn decided to pick up his bags and travel around China. For about 10 months the maverick travelled with a small group of friends through 35 cities with the purpose to make portraits the old fashioned way of who ever was interested. The studio on wheels took 8 months to prepare from finding the right truck to converting it to a floating studio geared with props, costumes and camera equipment. Some 1600 people participated in the fun and memorable experience living out their fantasies or dress up as their favorite fairy tale characters and heroes. The result is a carnivalesque celebration of the surreal.
LAST TANGO IN SHANGHAI – 2009
'Everybody has a secret world inside of them.'
'Welcome to my night-mares.'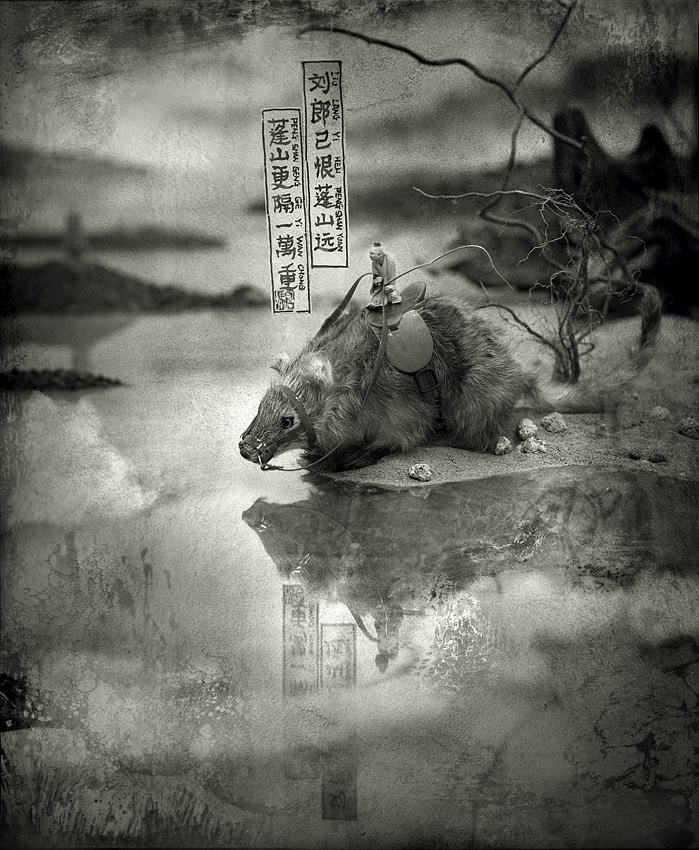 SECOND HAND TANG POEMS – 2007
comes from the artist's discovery of Tang Dynasty Poetry (New Annotation on the 300 Tang Poems by Zhao Changping). The scene, created by the artist on a large table with found objects, sculpted elements and a smoke machine, comprises common motifs in classical Chinese painting and poetry. Maleonn copied the text of the Tang poems from memory and he includes his mistakes.
"My use of classical Chinese motifs, especially those from literature, is very deliberate because they were an essential part of my growing up. In today's China, our younger generation has a very shallow understanding of traditions. The society is growing increasingly absurd; young people have little exposure to the classics and its spirit – the purity – is very hard for them to grasp."
WHITE ON WHITE
presents a series of small pictures torn off from old archived documents placed in surgical trays decorated with personal object reminiscent of people from the past four decades. "I'm interested in the memories that these photos evoke," he says, "the things that are forgotten, the things that should not be forgotten."
Maleonn's generation grew up during the last years of China's Cultural Revolution, when the Communist Party persecuted thousands of artists. He wants to bring to life the stories of people who suffered during the Cultural Revolution. "I look at these photos, and they were so beautiful, but later I heard stories that many people in the pictures were sentenced, imprisoned for years or simply died young.